5 bedroom house for sale or to rent in Racalmas!
We speak English and Hungarian!We have our 200 square metre beautiful, one of a kind home – fully furnished and equipped – for sale or to long-time rent from January 2022 in Racalmas. Racalmas is only a 15 minutes drive from Ivancsa, or 30 minutes drive from Budapest on M6 highway, and it is the nicest and well-developed town in the area. It has a big and newly refurbished kindergarten and school as well, a new bicycle lane around the town, and a new nice park and lake in the centre.
The house:It has been refurbished for ourselves to a very high standard with luxury materials. Everything has been newly built apart from the walls and the roof. All of the pipes, wires, surfaces, every machine and equipment is new. We are just finishing now, some of the rooms and equipment have never been used. It was not built for resale, every inch of it was built for our needs and made to a very high standard. Due to family reasons, sadly we have to move to North Budapest hence the sale or let.
Sizes:– 5 bedrooms (currently 4 is set up as bedrooms, 1 is an office)- 2 bathrooms and 1 separate toilet- 2 walk in wardrobes- 1 laundry room- large open plan living room with modern kitchen and dining area- 1 small sensory play room for kids- 1200 square feet garden- driveway for 5 cars- carport for 2 cars- 2 cellars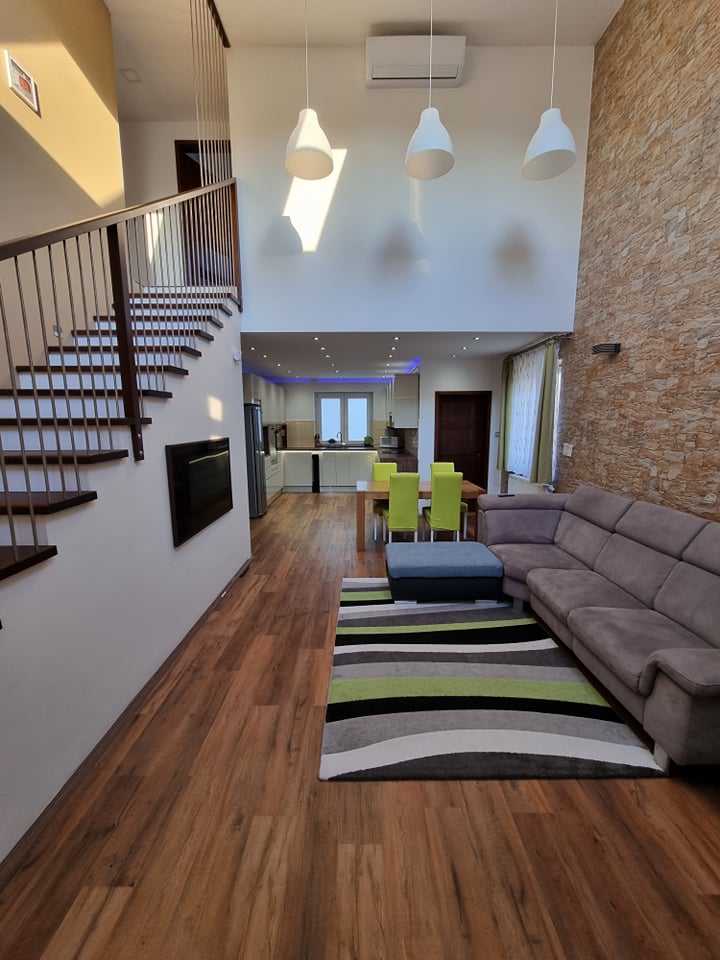 Our home is a smart home, you can control most of the electronic things from phone or tablet, but they also work from physical switches and buttons:- the air conditions- the heating system- living room and kitchen lights- full outdoor camera system- motion sensor and alarm system- dishwasher
The garden:– is built with design bushes and the grass is trimmed daily by a robot lawnmower- has a swimming pool area (with a 3,6 metres pool in summer) that is separated by a fence for children's safety- has a new children playground- has a high quality, new BBQ area- 50 square metres tiled patio- with automatic watering system- with rain collectors
Other features:– the house is fully furnished and equipped (most of the furnitures are custom made)- electric gates- floor heating and radiators- built in water filter system for tastier and healthier water- laundry drop-down system (from the bathroom to the laundry room)- built in wine fridge in the kitchen- remote controlled shutters on upstairs bedrooms
– triple glazed noise and heat reduction windows- the street is very quiet, but M6 and main road is just a few minutes away- brand new bluetooth system in the kitchen
– friendly and quiet neighbors
In case of rent: the gardening, caretaker and weekly cleaning are included in rent fee.
To let: 2200 EUR per month plus utility bills (depending on usage, about 200 EUR per month)For sale: 350.000 EUR
For more information, please contact Ildiko Fodor on fodor0208@gmail.com or on 06303163057 phone number.